Lots of couples and event planners are confused as to what to even look for, let alone think of all the details. The point is, we're the one-stop-shop for a little or a lot of help in your big day preparations. Did you know that "uplighting" is the cheapest feature you can get to add personalized WOW factor ? Some options include:

Event coordination.

You can make all the plans you want, but come game time, everyone you know should be celebrating….not concerning themselves with when the bouquet toss is planned or when to dismiss the tables to eat. Our event coordinators (who double as DJ's) execute your plans so you can enjoy yourself! We'll point out things you hadn't thought of too!
Music selection- ceremony and reception

.

Don't have the budget for live musicians? We'll play prerecorded tracks during the ceremony, and our professional DJ's will tailor your music selections to YOUR tastes, and work with you to provide exactly the experience you desire. Want them to shut up and just play some tunes? Sure. Want us to coordinate the entire event? Just ask.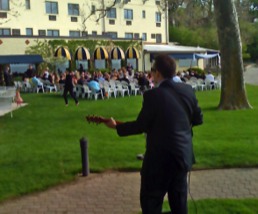 Wow them with a strumming minstrel during cocktail hour!
Musicians!

Having a pianist as the guests arrive is an elegant touch, and they'll handle the wedding march too… or a string quartet… or solo vocalist. You name it.

Available before,during, and after the ceremony for all your needs

Many options for the full tilt party band for the reception too- whatever style of music you desire!
Service amplification.

What's that? We'll hide mics and speakers so that everyone can hear the actual service. You've been to weddings where you couldn't hear the bride/pastor. We won't let that happen, and your photographer's lens won't see any of it!
Sound system rental.

Thinking about NOT hiring a DJ to save money? You'll just dance to an iPod and save money by not hiring a DJ or band? We'll bring the gear to make sure it's rocking. We'll bring the wireless mic you forgot so everyone can hear the toasts too.
Lighting systems.

Uplighting for elegance in the ceremony, and flashing dance-club-party goodness for the reception. (If you aren't familiar with uplighting, it's an inexpensive way to add an elegant touch that everyone will remember.) Our lighting is all cutting edge LED based- every color you can imagine, yet it's all green to the environment!
Photography.

We aren't professional photographers, but you couldn't tell by checking out our cameras. For a modest fee, we'll take boatloads of photos of your ceremony or reception. We'll give you every pic we take with none of the usual cost-per-shot photographer BS. Soooo much cheaper than a typical wedding photographer, since we aren't!